1. Paint it Red to Draw The Eye
A great way to make your garage look fantastic while also drawing attention to your beautiful home is to do a red garage door to accent the white color of your house.
Any shade of red you may go with is an excellent choice, you can do a strong cherry red that will pop and will have passers admiring the choice.
You could also go with a darker burgundy, which will provide a warm color accompanied by the white house layout.
You simply cannot go wrong with a red and white combo, as it will not only provide a nice color combo to look at but it will have all of your neighbors admiring its boldness.
You could even go further with this design, you could even do a fun and vibrant mixture of a red paint with some white paint.
With such a mixture, you can do swirl designs or even let loose and throw it onto the garage door then see what becomes of the random design.
By mixing the red with the white, it will not only look fantastic but it will also allow you to explore your creative side, which can be a lot of fun. An elegant design along with having some fun, what is not to like about that decor?
2. Keep it Classy With Some Brown
While brown may seem like a dull color on its own; however, when you accompany it with white it breathes a whole new life into the color.
If you were to paint your garage doors brown, you would not only be providing your home with a pleasing classic look, but you will also give it a warm feel.
With brown being such a natural color, occurring in nature such as trees and earth, this color combo will also give your home a fantastic natural look.
To do the brown better, you could even do wooden garage doors or perhaps simply paint it to look like it is wood, which can be done by adding some other light shades of brown to an already dark brown tone along with some fun swooshes of a paintbrush.
You do not have to stick to one shade of brown either, you can go with a lighter or darker tone while still maintaining a brilliant, warm, earthy tone for your house.
This color combo works especially well for a woodsy cabin look or even a ranch-style homestead, as it can provide an old-timey look while also remaining a modern combo.
When using brown as a garage door color along with a white house, you can even achieve a western look if that is what you wish.
3. Green, Clean, and Looking Great!
You cannot go wrong with green, as it provides a fresh and reviving look. Green pairs quite well with many colors and this includes white.
You could give the green a deeper feel by going with a shade such as a hunter green; however, you can also lighten the mood with a fresh mint green.
Mint green with white will give your home a fresh look along with making anyone who sees it feel enlightened and refreshed.
You could even go with a bold choice such as lime green, which will not only go fantastic with a white home but it will also catch the attention of anyone passing by, offering a vibrant second look.
It may seem like a bold choice to go with lime green, which it is but this is an excellent bold choice.
If you were to go with a mint green, it will offer a softer but just as refreshing vibe to your house. Not to mention that mint green whispers elegance without shouting it, which will provide your home with class without trying too hard.
If you were to go with a darker shade such as hunter green, it will give your house a natural look while also maintaining a calming vibe to the overall household.
4. Feeling The Blues
Blue paired with white is not only an excellent choice to go with for a coastal area but it will also look great in any neighborhood.
You can achieve both a contemporary and a modern feel by using blue for your garage doors on a white house.
The combo of white with blue is a clean and refreshing look that will look great on any home.
This especially applies to a coastal home that is nearby a beach, giving the house an elegant but natural feel that not only reflects the blue shades around it but also enhances the home's appeal.
There are many different shades of blues you could go with as well, whether you go with a darker navy blue or an enlightening turquoise.
Turquoise is a genuinely timeless shade of blue and brings joy out of anyone who sees it, it can also have a calming effect.
If you were to choose blue for your garage doors, you would be able to enjoy its calming and happy vibes every time you return home. Blue also has a clean look that reminds many of both the sky and the ocean.
If you are one for the seas, sailing, or simply beach soaking, blue is the right choice for your garage door color along with a white house.
5. Orange You Glad?
Another color along the lines of the red hue, orange can be an unexpected but welcoming color. This color choice for your garage doors can look especially good if you live in an area with oak trees since the fall of autumn will only draw out the orange color.
Orange, no matter the hue, goes excellent with a white house since the light feel of the white only enhances the orange color.
If you were to go with orange for your garage doors, it would be a great way to ease in other colors around the outside of the home since orange pairs well with many different color hues.
Orange is another color that you can let loose with the hue of choice, as you could go with a dark orange to give a Tuscan feel to your house.
You could also go with a lighter hue to allow its pairing with the white house to be less immediate. As previously mentioned, orange gives a warm autumn vibe that will welcome anyone.
If you love the falling leaves of August, orange is the right color choice for your garage doors.
6. Pink is In
Believe it or not, pink is a trending color choice at the moment and will likely remain as an acceptable color choice.
Now, when we say pink, the first hue that will come to mind is hot pink, which may be a bit too bold of a pink hue to go with for your garage doors, but it is also not unheard of as a color choice.
Instead, you may do well with a light pink hue such as a blush pink. Even a bubblegum pink can look excellent with a white house, and if that is a bit too much for your home, you can also go with a dusty rose pink hue.
Not to mention that pretty much any pink hue can work well with wood, so if you have a white house with wood trimming around the garage doors and then you add some pink on the doors; you could have yourself a modern yet amazingly appealing house.
This pink hue choice could also get your neighbors questioning their color choice and they may even follow your lead with the modern pink look.
So, do not be intimidated by the string vibrance of pink and give it a try, you may even like what you see.
7. Mellow Yet Vibrant Yellow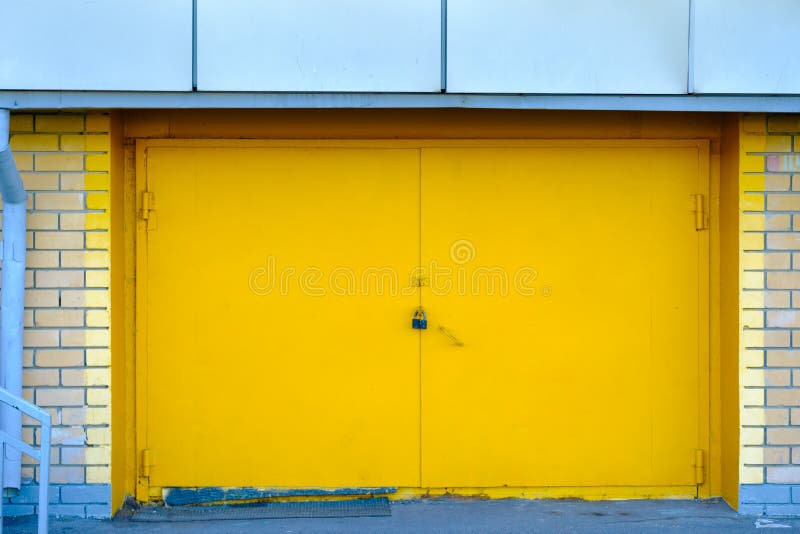 Yellow is a great pairing color with a white house, as it is vibrant but also calming. Yellow gives a spring vibe no matter what the season and also gives anyone passing by a cheery feeling.
This means that not only will you be smiling at the sight of your home's garage doors but it will also make anyone walking smile with glee. You will not regret going with yellow for your garage doors.